ABOUT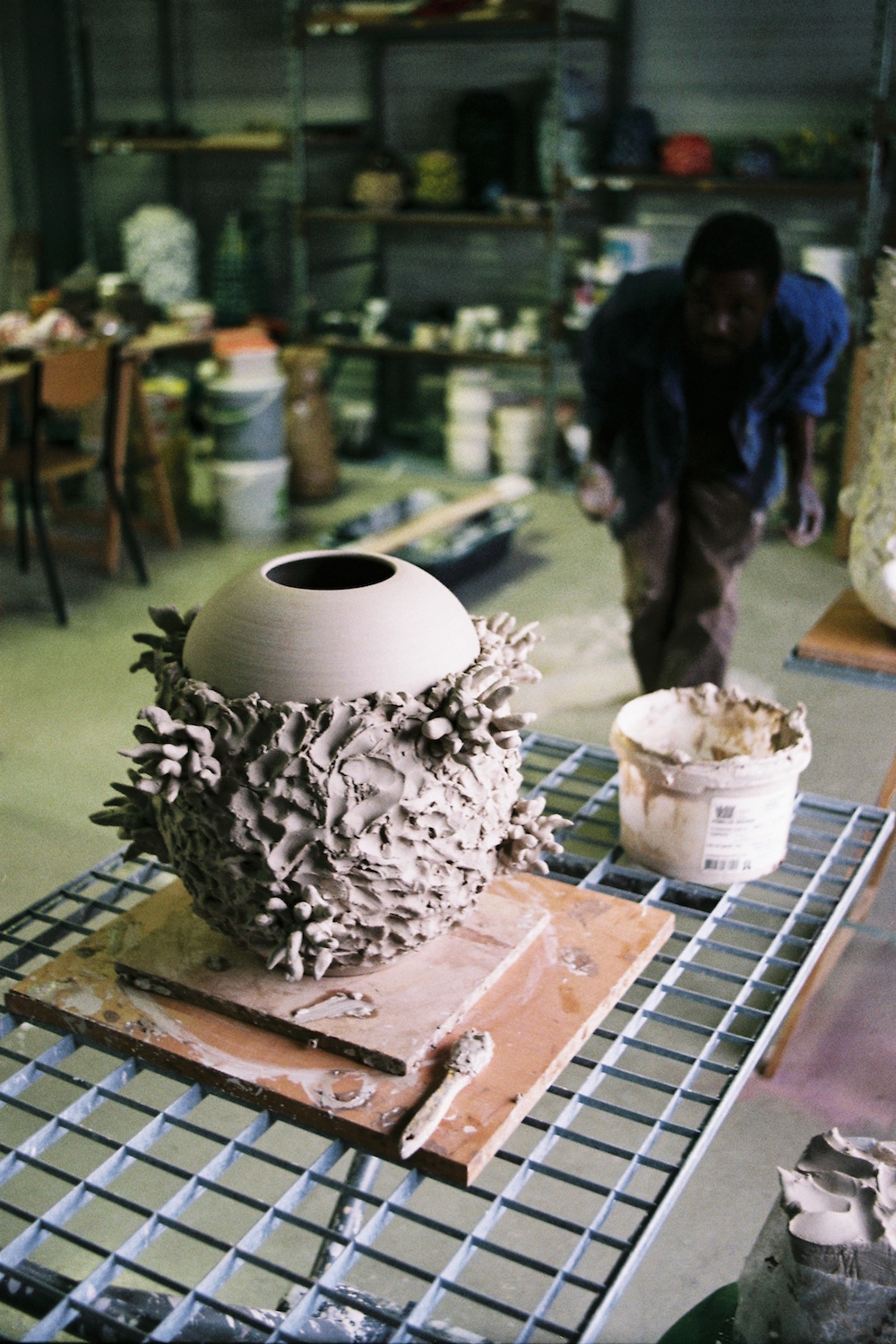 Born in Montreuil (France), in 1987, King Houndekpinkou is a Franco-Beninese ceramist based in Paris. As the face of a rising generation of artists from the African diaspora exploring global possibilities, King works in France, Japan and Benin, while exhibiting his work internationally.
His childhood in the suburbs of Paris was greatly influenced by the Japanese pop culture of the 90's (e.g.: Manga, video games, Anime), which led him to develop a fascination for Japan during his teenage years.
In 2012, while actively pursuing a career in the field of International Communications and no prior interaction with the clay world, King fulfilled his dream of traveling to Japan for the first time. It is then, that he inadvertently discovered the country's rich culture of ceramics. He was mesmerized by the "rough beauty" of the wood-fired potteries of the Roku Koyō (the six ancient kilns of Japan from Bizen, Shigaraki, Tamba, Echizen, Tokoname and Seto). After this discovery, King returned to Paris and trained in ceramics (mostly wheel-thrown pottery), while visiting and refining his skills in Bizen each year beside local potters. He developed a friendship with the artists from the Keramos group and mostly with Toshiaki Shibuta.
In Bizen, King was seduced by his friends' ceremonial approach to creating ceramic works, which seemed influenced by Shinto and animists beliefs (e.g.: offerings to the Kiln God, prayers before firing etc.). Most importantly, their attitude was reminiscent of the Beninese animist cult of Voodoo. For King, ceramics stood as a revealing material of the spiritual bond existing between the West African and Japanese cultures. This epiphanic discovery changed the course of his life and after three years of trainings and self-taught practices, he decided to dedicate his life to ceramics as an artist.
Since 2016, King directs Terres Jumelles, a program consisting in fostering cross-cultural dialogue between Benin and Japan by creating bonds between local ceramic practitioners in both countries. To him, this life-long project is an attempt to demonstrate how the field of ceramics can act as a catalyst in promoting cross-cultural understanding and peace dialogue between cultures.
Today, King has developed a practice that merges tradition, spirituality and visceral creativity while crossing several "borders", whether they are cultural, geographical, generational, disciplinary, technical or historical. Mainly based on the vessel shape and sculptural works, King's practice involves blending materials (e.g.: clays, ashes, powders) from all continents. Though built on strong and proportionate shapes, his works seem disfigured by a surcharge of clay and lively textures that emulate the aesthetics of the Voodoo altars and fetishes of Benin.
King is a member of the International Academy of Ceramics and his work is/has been regularly exhibited internationally at art/design fairs, museum exhibitions and biennales in Australia, Benin, Hong-Kong, Japan, Morocco, Senegal, Spain, South Korea and USA.
In 2017, he was part of the major tribute exhibition to American potter George Ohr [1857-1918] titled Regarding George Ohr: Contemporary Ceramics in the Spirit of the Mad Potter at Boca Raton Museum of Art (Florida, U.S), curated by ceramics expert Garth Clark. King's achievements and career path set him in a lineage of artists that have been exploring creative possibilities with the vessel shape which, to King, "functions" as a universal and timeless canvas to engage in conversations accessible to all beings regardless their gender, social status, generation, skin color, culture…
Photo credits: © 2019 Ilan Parienté